Abducted
Details

Created: Tuesday, 26 July 2016 15:59
Written by Skarsburning
Hits: 9566
Abducted
Abducted is the normal dungeon of the Bridge expedition and is the second dungeon in Africa. It is a lot easier than Temple of Perdition so if you are good geared you might be able to come here at level 25-26 and be able to complete it. Look for Uróthiens items or Rayols in the Auction House. They are really high in damage and if you keep your Mercenary to the highest possible level, you will have no problem farming this dungeon.
Entry level: 25
Dungeon points to complete: 11
Level on which you can complete: A lot easier than previous dungeon. Good geared you should be able to farm the dungeon including the boss on level 25. Here is a screenshot of a setup that is never losing on Shetu which means that even weaker setup should do the trick - here.

Enemy and boss levels: 34-36

Minions item level drop: 32-38



Boss item level drop: 36-43

Parent Expedition: Bridge
Advanced Dungeon: Yes, Under a Blood-red Sky (Level 86)

Previous Dungeon: Temple of Perdition (Level 20)
Next Dungeon: Chamber of Pyro (Level 30)
Description
Screams pierce the cold African night air. Another Roman family has been dragged out of their house and into the desert. Usually help comes far too late and there are barely any traces left of the unlucky victims. However, this time torchlight has shrouded the riverbank in a sinister light that allows us a glimpse of the ghostly abductors.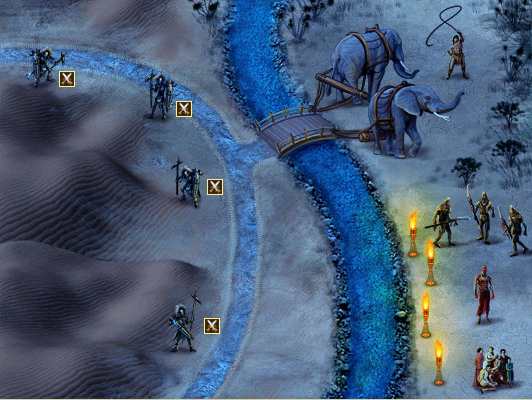 Quests

1. Fight your way past the warriors to the bridge

2. Prevent the two elephants from tearing down the bridge

a. Eliminate the elephants
b. Dispose of the Animal Master

3. Fight your way through to the Roman villagers

a. Kill the fanatical follower
---
You need to fight your way past the bridge. There are 4 warriors in your way
Attack!
After you kill all 4 you complete the first quest

---
You cross the bridge and you see an Animal Master commanding 2 Elephants to attack you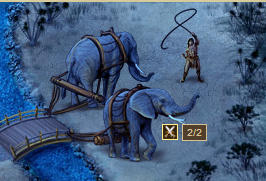 You kill both of them
---
With both Elephants dead now you can face the Animal Master


---
There are 3 followers ahead. You charge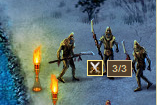 Once you kill all 3 of them you complete the final quest and finally catching up to the abducted Roman family. You are ready to face the boss

---
You need to free the abducted family so you charge the boss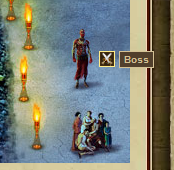 Item Level drop: 35-43