The Cave of Dark intrigue
Details

Created: Monday, 20 June 2016 02:50
Written by Skarsburning
Hits: 10795
The Cave of Dark intrigue
The Cave of Dark Intrigue is the fourth dungeon in the game and same as the Dragon Stronghold its entry level is a trap. The enemy levels are 24-26 on level 15 Entry. Quite tricky. However, if you are VERY well equipped on level 15 to 18 you should be able to fight off enemies until the boss. The boss however is another story. It's much stronger than the rest of the dungeon so you could find yourself easily in the position where you fight through the dungeon just fine and when you try hitting the boss you barely down him to half health. If you are in this situation you would probably be skipping this dungeon until you are able to kill the boss or cancel and re-start the dungeon when you reach the boss. That way you can at least fight the mobs in the dungeon for items. Gear up your mercenary with the latest gear and keep them as high level as possible and you can try to down him as early as possible
Entry level: 15

Dungeon points to complete: 6
Level on which you can complete: Hard dungeon. Medium minions, extremely hard boss. If you keep your mercenaries 22 Level + and they are all geared up with recent gear and high damage, you can down him on Level 18. Here is a screenshot of a Level 18 setup with successful kills - here.

Enemy and boss levels: 24-26
Minions item level drop: 22-28

Boss item level drop: 25-31

Parent Expedition: Wolf Cave
Advanced Dungeon: Yes, Gioll Passage (Level 73)

Previous Dungeon: The Dragon Stronghold (Level 10)
Next Dungeon: Temple of Perdition (Level 20, Africa)
Description
The sweet odour of decay streams through the cave`s entrance and one can hear bones splintering. The wolf pack has assembled and is rejoicing in the gifts of nature. There is no safe way past the wolf pack, and whoever wishes to enter the cave system must first pit himself against the hungry wolves.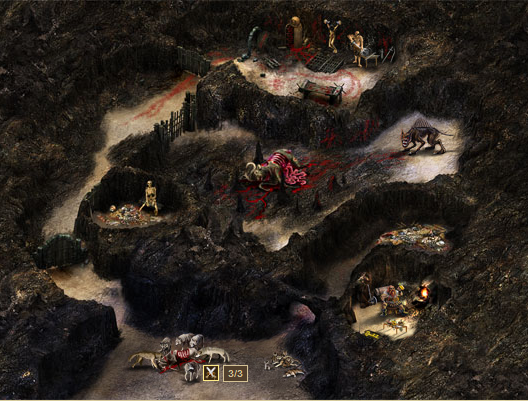 Quests
1. Free the atrium from the wolf pack

2. Find the key for the entrance

3. Find the key for the gate to the drip stone cave
---
Entering you see a bunch of wolves ravaging an atrium. You try attacking
Once you defeat all 3 wolves you will complete Quest 1

---
Then you fight a dwarf for the key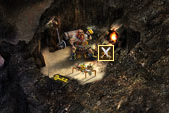 You also complete the second quest

---
You go and search for the other key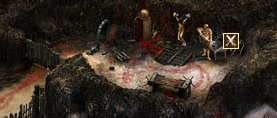 You also complete the final quest

---
You can now unlock the gates and enter the last cave where the huge hound is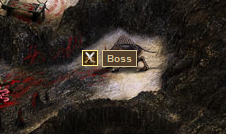 You attack...